I love when classic styles are reinterpreted to include modern details. This strapless trench-inspired dress is right up my alley. When I first saw it, I hesitated before making the purchase, because strapless tops/dresses are a challenge for me. The whole "finding-a-strapless-bra-that-is-supportive- enough-and-doesn't-fall-down" drama is too much for me. But the dress is so cute, and I already started envisioning ways I could wear it, so I took the plunge.
Photo credit: Banana Republic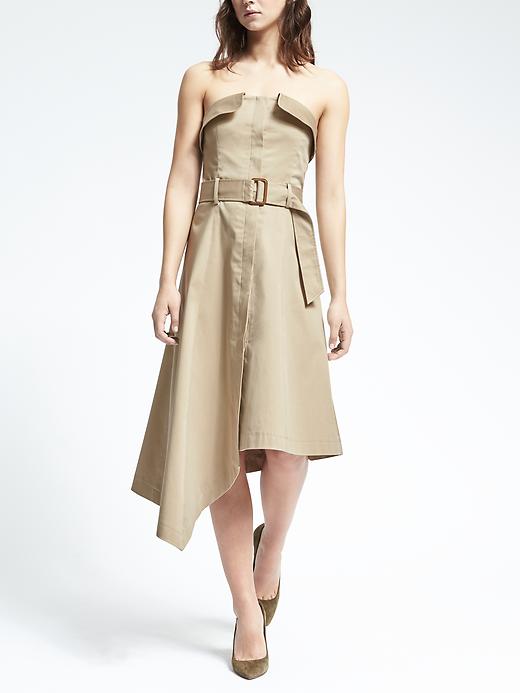 I was relieved to learn that the dress comes with detachable straps, which would provide me with some much-needed support. When I got the dress, I realized that it had a button-down front, which added another layer of complexity to the situation. I often shy away from button-down shirts/dresses because I'm top-heavy, and us "well-endowed" ladies have to deal with gapping shirts and buttons that look like they're holding on for dear life. The spaces between the buttons on this dress are far apart and sure enough, my breasts were playing "peek-a-boo." But I love the dress, so I took it to the tailor to have two snaps and a hook added to close the gaps, so I was all set.
I'm a strong believer in investing money in the tweaking and or/customization of your garments to give them the perfect fit.
I wore the dress to a rooftop party overlooking the wonderful city of Philadelphia. The dress comes with a belt made of the same material, but I opted for a woven leather belt and my denim espadrilles.
I already have two other styling ideas that include layering a shirt under the dress, and one that includes adding a blazer to make it more "office-appropriate. There are many styling opportunities here. Check out one of my all time favorite style bloggers Wendy Nguyen of Wendy's Lookbook. She chose to wear the dress as a top over denim cutoff shorts. See her complete post here, which includes another styling option.
Photo credit: Wendy's Lookbook
I'll be sure to post when I wear this dress again.
Thank you for reading, and as always: Be Fearless. Stay Fashionable. Have Fun!
-TFF