Gucci recently announced the company will no longer be using real animal fur
in the production of their garments and accessories, beginning with their Spring 2018 collection. According to CEO Marco Bizarri
,
the use of fur is not "modern," and they are also looking to be more ethically responsible. That topic is quite timely for me personally, because I mentioned in
a recent post
that my daughter asked if ostriches were killed or whether they simply got a haircut to supply the feathers that adorned my mini skirt. From the mouths of babes…
So that got me thinking and actually researching how ostrich feathers are procured, and I wasn't too pleased with what I found. The feathers are plucked from the birds while they are alive – and apparently, it's a very painful process. Now, I know that some really horrible things are done to animals for the sake of fashion and luxury, and I guess I've buried my head in the sand to avoid dealing with those harsh realities. However, in light of the political and social climate of this world, I think we all have a responsibility to open our eyes, and be brutally honest about the things that are going on. It's easy to ignore the things you don't want to deal with. (racism, sexism, misogyny, abuse of all kinds, etc.)
Now, I love leather, fur, and other luxurious fabrics. However, I do know that those things come at a cost – and not just a financial cost. I think the industry has made tremendous progress with faux leather and suede, and faux fur. I heard of an initiative where leather substitutes were being made from mushrooms. How cool is that? I'm feeling like I need to start moving away from fabrics that are obtained from such cruel and heinous means, and I will make a conscious effort to do so. I do own some items with fur, and I'll likely continue to wear them, but I'll be more mindful of any future purchases of real fur.
I recently stumbled across some fur faux options that I think are really cool. Check out this faux fur coat from Michael Kors. The color makes this a real head-turner.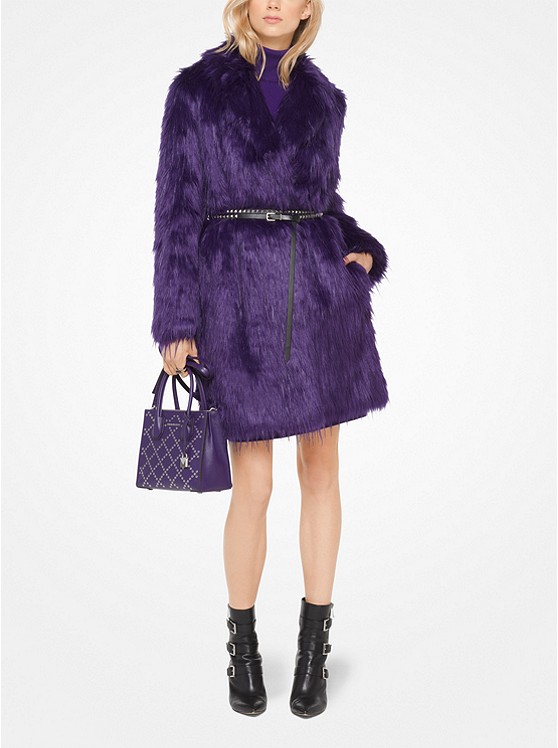 And Zara has some fun options also. Check
this
out:
H&M has a plethora of faux fur options also, including this:
And this style is available at Asos
So for those of us who want options that are less cruel to animals, we have plenty. Admittedly, nothing quite matches the glamour and opulence of the real deal, but I think designers and manufacturers are moving in a great direction in capturing the characteristic of real fur.
Thanks for reading, and please stop by my Faceboook and IG feeds and let me know what you think! Be Fearless. Stay Fashionable. Have Fun!